Project Opportunities
Over the past few years, Alongside International Teams have served in eight countries in Africa, South America and in Northern Ontario.
Please take a few moments to explore the project links below and discover some of the ways that you can contribute. Serving on an Alongside Team will be an unforgettable experience that makes a difference in the lives of people living in poverty.
Active Projects Overview and Reports

Past Project Reports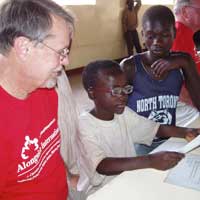 Young boy tries out new glasses at vision clinic.