Akaeze School Project
Nigeria is Africa's most populous nation and classified as one of the poorest on earth, with nearly 70% of its citizens living in poverty.
In Eastern Nigeria thousands of people are scattered in remote villages. The inhabitants of these villages are without the basic necessities of life and live day to day without such basics as clean drinking water, food, proper sanitation, schools and medical care. Life is hard especially for the children.
The majority of the rural people living in Ebonyi State are without hope and are animists who ritualistically worship animals and plants. However, a special pastor and his wife, are leading TETMI, an organization that is reaching out to the impoverished people in many of these villages. TETMI started the first primary school in the area several years ago. Since then another primary school and a high school have been built. In the three schools, 33 teachers are providing 1,200 students with quality Christian education.
Alongside teams have worked with TETMI local people to build these schools. We are engaging outreach teams to villages in Ebonyi State on a regular basis to build, drill wells and provide medical care in order to bring relief to these suffering people.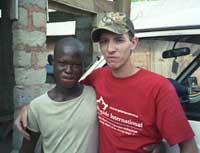 Making new friends in Nigeria.