Donate and Support Alongside
Alongside International is a program of Partners International and ASSIST Canada that exists to mobilize Canadians from all walks of life to provide direct, hands-on relief to those living in poverty and despair.
You can provide support to Alongside in any of the following ways. Here's how:
Make an online donation to support Alongside Program. Note: Please designate your gift to Alongside International under "Additional Information" on the donation page
Write a cheque, payable to Partners International and designated to "Alongside"
To donate goods that can be used on an Alongside trip e-mail David Miclash about gifts of goods and services
Revenue Canada income tax receipts will be issued for 100% of your donation.
Thank you
We can't do it alone, but together we can make a difference. We are truly privileged to have hundreds of people come alongside and support our efforts. Here are a few of the contributions made by donors.
A&G Roofing
Attrell Toyota
Compass Point Bible Church
Calvary Baptist Church
Canadian International Development Agency (CIDA)
Cougar Shoes — shoes for Peru
CanuckCare
Christian Salvage Mission
Coldwell Banker
Emmanuel International
Family Christian Bookstore, Burlington — supporting artisans
Foundation Distributing
Galcom International
Grindstone Valley Bible Church
Highroad Computers
Investment Planning Council
IT Exchange
John Teklenburg International
Life Chiropractic Services
Lazier Hickey Lawyers
Maple Pharmacy
Multiserv Canada — money for wells in Africa
New Electric
Niagara Warehouse of Hope
Sew on Fire Ministries
Dr. Ken and Denise Taylor — medical supplies
Timbergreen Landscaping
Trillium International Shipping
University of Western Ontario
West 49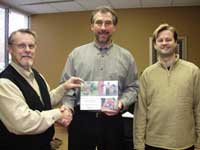 Ron Sedlbauer, President (and ex-NHL hockey player) of Cougar Shoes.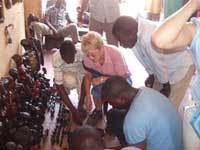 Supporting local artisans in Nigeria, whose products are sold at the Family Christian Bookstore in Burlington.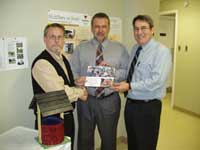 Tobyn Pearson and Ian Kirk of Multiserv Canada created "Wishing Wells" to collect funds for building and drilling wells in Africa.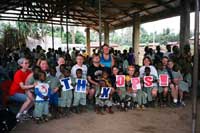 Ontario Public Service employees in Nigeria, with help from their employer.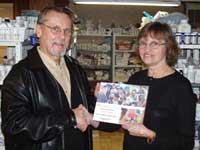 Dr. Ken and Denis Taylor provide medical supplies for outreach.