Lazarus Project
The United Nations estimates over 50 percent of Africa's population is under 16 years of age. In the country of Zambia, the collapse of the copper industry, massive foreign debt and the AIDS epidemic has resulted in tens of thousands of children living on the streets, fighting to survive. They are targets for all forms of physical, psychological and sexual abuse imaginable.
The Lazarus Project is rescuing, rehabilitating, educating and training homeless street kids. Street children are taken in, given a permanent, loving home on the project's 40 acre farm and provided with education and training. The facility presently accommodates fifty children and the plan is to train them in agricultural techniques and animal husbandry in order to help sustain the project and provide the street kids with a sustainable trade.
Alongside teams have assisted in the construction and upgrade of the dormitories, the skills training center, well drilling, additional buildings and classrooms. In addition, we interact with a local church with programs to reach prostitutes.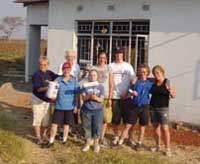 Alongside crew celebrates the completion of a painting job.