Mully Children's Home
In Kenya, AIDS is killing 700 people a day and has orphaned nearly 2 million children. Most of these orphans are abandoned and live on the street in unimaginable conditions filled with disease, drug addiction, crime, sexual assault and hopelessness.
Charles Mully was once a street kid, but he was lucky. He found work on a plantation and by the time he was in his fourties he was a wealthy businessman and church leader. In 1989, he was called to turn all his business concerns into a centre for street children. The Mully Children's Family (MCF) Home was born.
Charles built schools, farms, workshops and dorms and would only take in street children. 25 years later there are now over 30 former MCF students in university. The farm exports produce to the European Union, has created 100 jobs in the local community and supplies 60 percent of the food required for the children in MCF. The MCF school has produced children who have won the highest district, provincial and national awards in music, science, drama and sports. Extraordinary!!
Alongside teams have built and supplied a medical clinic as well as dorm construction.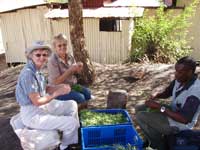 Helping out with meals at the Mully Children's Family home.