Tarma, Peru Outreach
Two hundred kilometers from Lima in the mountains of central Peru, live more than 100,000 Quechua people. The majority of the Quechua are illiterate and cling to life at a subsistence level. The villages and communities where they live are often remote, desolate and deserted. Access to health care, education and other services are not provided.
The people living in these remote mountain villages have been neglected historically in terms of access to basic services in education, health and other community services offered by both government and non-government organizations. Much of the population has never visited a doctor or dentist. More than 60 percent of the rural inhabitants of the Andes still live in poverty. Less than half have access to health services, safe drinking water and sanitation. One child in nine fails to reach his or her first birthday.
Alongside outreach teams are helping to improve conditions among the Peruvian Quechua people. This will include building or repairing one potable water system and providing 30 latrines in each of 300 communities. We will also be establishing one village pharmacy in 10 communities and training the Quechua in waste disposal, recycling, water system maintenance and farming. As with all our team outreaches we'll also be interacting with the Quechua through sport, crafts, music and donation of needed items.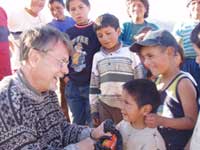 David Miclash gives treats to Quechua children.