Uganda Project
In partnership with Crossroads and a local church organization, Victory Outreach Ministries (VOM), Alongside is helping with food security and water & sanitation projects for resettling Internally Displaced People (IDPs). In a country that has been affected by 20 years of rebel warfare, hope is being restored.
We have been privileged to help in Uganda where two schools have been built and hundreds of villagers have accepted Christ and eight churches have been planted as a result of the witness of Christian tractor drivers working in these communities. Local roads have been repaired because of the availability of tractors and wagons.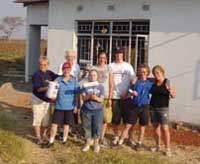 Alongside crew celebrates the completion of a painting job.